I always say crochet is the art of possibilities, in today's tutorial I bring something that is well on the rise in the crochet market this tutorial is the darling of the moment and you as well as I will definitely be falling in love.
You know the stuffed animals that are already cute by themselves, so today you will learn how to make a dinosaur in crochet all worked in Amigurumi.
Which is one of the high points that after you learn will provide you with countless other possibilities, this point I also made is considered average.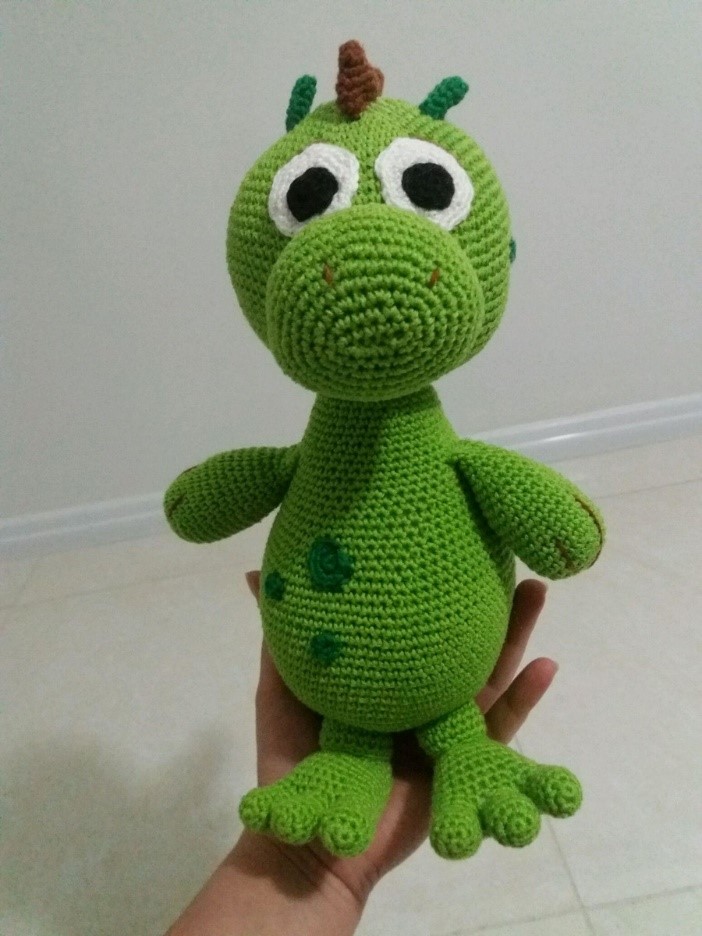 I did not find it difficult, as long as you follow all the recommendations and guidelines of the designe. People talking about crisis I want to open your eyes to a world of opportunity, crochet is a branch of constant growth, incidentally it is difficult to look at a piece in crochet and not fall in love with the wealth of detail.
In fact, when I bring these tutorials I want to share with you and the same passion I feel for each piece, when I complete the tutorial I get motivated to research more and more news and do, this because every piece recreated and exposed in my atelier is sales success.
I want to tell you that it's starting that nothing in crochet is impossible, I myself am living proof of it, I've been in the business for quite some time, of course officially dedicating myself and living from it is only a year old.
Do you know what happened to me? I saw crochet as an opportunity in the pandemic! It was people, I was employed, with 6 years of experience in the area when out of nowhere came the pandemic and the company sent me away.
Detail with son of less than 01 year to create, paying rent, full of health problem, of course I ran out of ground. It was when even in the period of receiving unemployment insurance, I started crocheting again to calm down, at the time I saw crochet as therapy.
Every point I was making, asking God to know what I was going to do with my life, was when a light told me: why don't you try crocheting in your life as an opportunity?
Guys I spent day and night, watching videos tutorials, tips and step by step how to make several pieces to improve me and learn, because in fact I knew the basics as well as maybe you who is here with me today reading this tutorial.
I got caught up in a desperate suit, but I put a goal in my life, I had 5 months to learn how to make pieces in crochet and after that marketing it, I gave myself that deadline because I knew it would work.
Of course a lot of people criticized me, thought I was crazy not to look for a job, more in that scenario, I was unemployed, with a son to raise and soon i would be without money.
Check out other amazing tutorials on our website by clicking here:
But I've always believed in myself a lot, you know? Not giving up, what made me win in this business was persistence, so if you believe you're going to be able to live off it! Come today with us enjoy another amazing tutorial on how to make this dinosaur in Amigurumi all worked in crochet.
Guys, I want to make it very clear that all the tutorials worked here is not credit and much less my production, all the credits of the step by step and even image is from the official site soyou will check out another wonderful tutorial by clicking here.