Today's tutorial I bring a taste of childhood in reality is a piece intended for children, that beautiful infant unicorn has now been recreated and produced in crochet, I started producing mine and it took me 7 days to finish because it was interspersed with other tutorials.
As I've always been sharing with you, I found the piece of easy to moderate level, following the tutorial right it is possible to have an excellent success in production, even being a piece with rich detail, so it is important to follow the point and explanations of the tutorial.
Can you visualize as an entrepreneur? Look at the richness of details of this piece, it's amazing, isn't it? Would you buy it? I would buy for this I'm sharing the tutorial with you, all the pieces I bring here for site is because I'm actually buying the idea, as soon as I finished my unicorn is guess what, I sold the piece.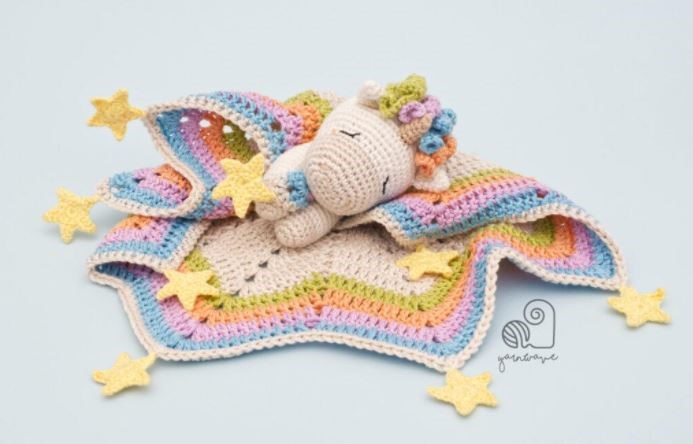 Which promises to be a sales success in the atelier, I really loved and plan to recreate other unicorns later this week.
I would like to give some tips to you mother, entrepreneur, woman and artisan who has perhaps fallen here on my site of paradeand is enjoying the content we share here.
The crochet as I always mention and the art of possibility, I started from time to time in the business is a little over 01 years old and today I am a crocheter passionate about art, detail as I always mention live crochet.
What was once just a hobby being made a profession of much love involved is endless prestige, I want to thank God and my person for not having given up, do not think it was easy, just as you guys i thought for many times in giving up, was afraid of not succeeding, I just knew that I wanted to live from crochet is that for this had to give my maximum.
Today with a little over 1 years of professional experience in the field, I do not regret my choice, you know what drove me? It was unemployment, despair, a son and expenses to create that depended on me.
Check out other amazing tutorials on our website below:
Crochet Giant 3D Flower Walkthrough in
Tutorial on crochet tablet path
I didn't know where to start, I just knew I needed to take the first step and that from this I would live the best days of my life.
It was through crochet that I gained my financial independence, work in the comfort of my home, I get 24 hours on my son's side who will be two years old.
That is, now I do not miss any more phase of it, before I missed certain moments because I was stuck inside a company earning a median salary, which normally did not hold my expenses and living full of charges.
I knew that from that art I fell in love with every day I could take away my livelihood, you know what moved me? It was my will! Persistence to continue and learn as much as I could, today I make crochet my greatest joy and share with you all these tutorials, because I know that you can also change your life.
Believe me, believe me! I took your first step, it is through this step that you will manage to reach the horizon of what is essential is true.
I would like to make it clear that just like this tutorial, all image credits and content is aimed at the official website where today you will learn this unicorn in amazing crochet by clicking here.