Hello my dear friends crocheters, today I offer you a different tutorial as all that is childish. If you're a mother, you'll love this pattern, like everything crochet, it's a children's play that exudes delicacy, sophistication and wealth of detail.
A piece that can not miss in the wardrobe of your daughter on cooler or colder days, this because this coat very similar to the patterns of the sweater will provide the necessary warmth to your baby, I as a craftsman was passionate and very pleased to learn this pattern because I found from basic level points to advanced and I was able to handle the piece very well without difficulty I made one in just a week.
If you are a craftsman like me, I recommend that you have this pattern out there, you will have a way out, this is because any child game sells well, there are at least two standards of this type that will certainly be sold successfully and in other patterns work on request.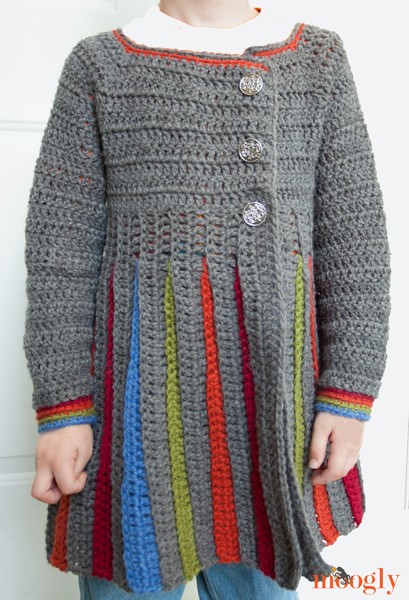 Look at this piece, the delicacy and richness of the details and think about the following way to be passionate, why wouldn't your client be passionate?
In fact, when we have empathy for tutorials, we created a portfolio for clients, I was scouring the internet when I found this pattern in a tank cap, super interesting and decided to share it with you because I found the piece a beauty.
I started doing it and saw that it had great potential for both selling and success in donating to someone.
As I always say, if you're starting out being at home, unemployed(oh) is that you want to leave all that pattern and be your own boss, look at crochet as an option in your life.
The material is cheap, low investment and depends on you and your efforts, then dedicated to success.
This is an industry that is showing many promises and can come in and gain a lot of stability in this business in the future.
Crochet is the art of possibility, just have a needle and a thread at your disposal to create beautiful and excellent patterns, not that the branch is growing rapidly and conquering the market more and more.
Perseverance is the key word for those who enter this business, that is, do not just want to learn, you really need to commit, get your hands dirty is to go in search of success.
I was crocheting day and night in search of perfection until one beautiful day I made my first set of baths, I do not think it was easy, more motivated me to continue and gave me enough skills to learn new standards and always bring news.
Check out other great tutorials on our website below:
BRIGHT CHEVRON BORDERLESS BLANKET – BY MOOGLY
NYA MOSAIC BLANKET – INFINITY VERSION
After the first order had taken off, many others came from there and when I saw that I had succeeded I knew that if I persevered I could do it.
Nowadays I crochet for a living, I don't regret it, it was the best choice I've made in my life, I have more time to devote to the people and things I love, it's better to make my own schedule and be my own boss.
Do you know how I learned and how I reached that level? View, share and produce tutorials, today, as always, I am sharing with you another wonderful tutorial where the credits for your images and content are intended for the official website, which you can consult by clicking here.