How to crochet dress and booties? Crochet is a versatile craft that can create beautiful clothing items, such as dresses and booties. Crocheting a dress and booties set can be a fun and rewarding project for both beginners and experienced crocheters. Here are five things to consider when making a crochet dress and booties set.
Choosing the Right Yarn and Hook Size
The type of yarn and hook size you use will have a significant impact on the final look and feel of your crochet dress and booties. For a dress, you'll want to choose a yarn that's soft and comfortable to wear, such as cotton or bamboo.
For booties, you can use the same yarn or choose a thicker, more durable yarn, like wool or acrylic. Make sure to select the appropriate hook size for your chosen yarn to achieve the desired stitch gauge and size.
Deciding on a Pattern
There are countless crochet dress and booties patterns available online, in books, and from fellow crocheters. Consider your skill level, the type of yarn you're using, and the occasion for which you're making the dress and booties when selecting a pattern. Some patterns may be more complex than others, while some may be designed specifically for baby showers or weddings.
Adding Embellishments
Crochet dress and booties can be simple or elaborate, depending on the desired look. Consider adding embellishments like flowers, bows, or buttons to add a personal touch to your set. Be creative and experiment with different colors and textures to make your dress and booties stand out.
Working with Different Stitch Patterns
There are many different crochet stitch patterns to choose from when making a dress and booties set. Simple stitches like single crochet and double crochet can create a classic and elegant look, while more complex stitches like shell stitch or popcorn stitch can add texture and depth. Experiment with different stitch patterns to find the perfect combination for your dress and booties.
Finishing Touches
Once you've finished crocheting your dress and booties, it's time to add the finishing touches. This could include sewing on buttons or ribbons, weaving in ends, or blocking the finished pieces to ensure they lay flat and look polished. Taking the time to finish your project properly will make your dress and booties set look professional and high-quality.
Materials for Crocheting a Dress and Booties
Now that you have a better understanding of what goes into crocheting a dress and booties set, it's essential to have the right materials on hand. In addition to the yarn and hook, you'll need a tapestry needle, stitch markers, and scissors.
Consider investing in a good set of crochet hooks and stitch markers to make the process more comfortable and enjoyable. With the right materials and techniques, you can create a beautiful and unique dress and booties set that's sure to impress.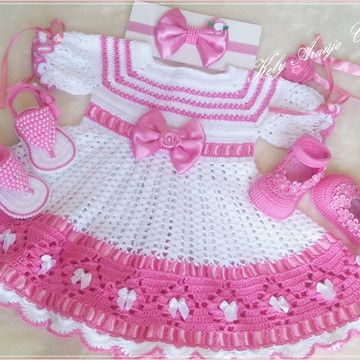 Access the step by step here.
If you liked this crochet pattern, but want to see some more options, below you will have other options:
We wish all our readers an excellent week, full of God's blessings in their homes, good health, peace, love, harmony and, mainly, many and many handicraft patterns with crochet threads. Good crocheting to all, sincerely Mommy Crochet!