The crochet skirts are key models that never go out of style, can spend any period of the year they are pieces that will make any woman more beautiful and very elegant.
Also, having a crochet skirt in your wardrobe can be a wild card piece for that romantic date, a family event or even enjoying a little bar what will determine the charm of your look is the combinations you will make with this chevron model crochet skirt.
Of course I've already put my hand in the dough that I'm of these is started to produce mine, girls I was in fact in love! The model wears super well, values the curves, besides being wonderful because it is different all hand-crafted.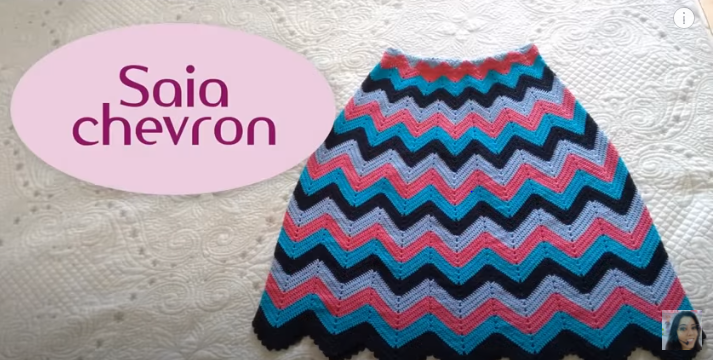 Detail I made mine in 3 days, believe me! I put a goal that wanted to see this piece ready and i was direct working on it, super easy, the point is nice to be working I really fell in love.
Detail for those who are entrepreneurial in this business is a piece of high turnover, because any woman who looks at this lindeza will want to buy, I already find myself with orders referring to this model is I'm in love.
I don't want anything else, I intend to do 02 more different colors now to leave in my wardrobe, that's how I get you toget too.
Another interesting thing of this point is that I learning recreated other pieces, believe that with the same point I made a scholarship? Well, the point is so nice to be working that you can originate other models.
The cool thing is that it is tightly closed so it's easy, just take the thread and needle of your choice and put your hand in the dough literally, crochet until the piece is ready.
Pandemic season, you must be home! Why not devote yourself? People I started working as a professional is less than 01 year old, before I was an amateur, did few things and then with time, need, I ask for my job, I decided to devote myself.
Today I do a little of everything in the business is detail I'm passionate! You know how I learned?
I really dropped my comfort zone, stopped complaining about life, dedicated all my time in learning, spent hours and hours in front of the computer looking at various tutorials, making pieces and pieces until i reach the perfection of the models that I recrio today, work only copying the tutorials I bring here on the site is detail.
I already have my studio, Work at home in the comfort of my home, I can follow my son's development and I am totally in love with what I do.
After I started working with crochet my life gave a 360 spin, this because I worked within a company, which I hated what I did and wasn't happy.
Today I work motivated, I learn, it is a hot therapy for my mind and I follow everything about my son. You know who gave me all this?
Check out other amazing tutorials on our website by clicking below:
Crochet! In fact, so if you for some reason fell here on the site and came to check out another tutorial, depute yourself! With persistence and patience your results will come.
Crochet is an art of falling in love, it's not overnight that you'll learn everything, but with dedication you've reached wherever you want. So stop complaining about life, take needle, thread and paper and pen and bora for another amazing tutorial that you will check out.
I would like to make it clear that the image credits and content in the case of the tutorial is intended for the official website that you can check by clicking here.