African Flower Crochet. Hello my dear readers of Mommy Crochet blog, how are you feeling today? We sincerely hope that everyone is very motivated to start another beautiful craft project with crochet yarn, because the piece that I will make available here is, a true work of art.
As many of you may know, the African Flower pattern with 8 petals is one of the most popular in crochet, because with this step by step you can make the most diverse combinations of colors, and this piece is a classic, which I haven't done yet, I want to do it. , so if I were you I wouldn't miss the opportunity to start today.
The step by step of the African Flower with 8 petals is super complete, with a PDF description, three videos available to choose from including color combinations, clear illustrative images, so you can see the crochet stitches well, in short, it's all yours to start and finish this beautiful crochet piece. We believe you will find it very easy to do so.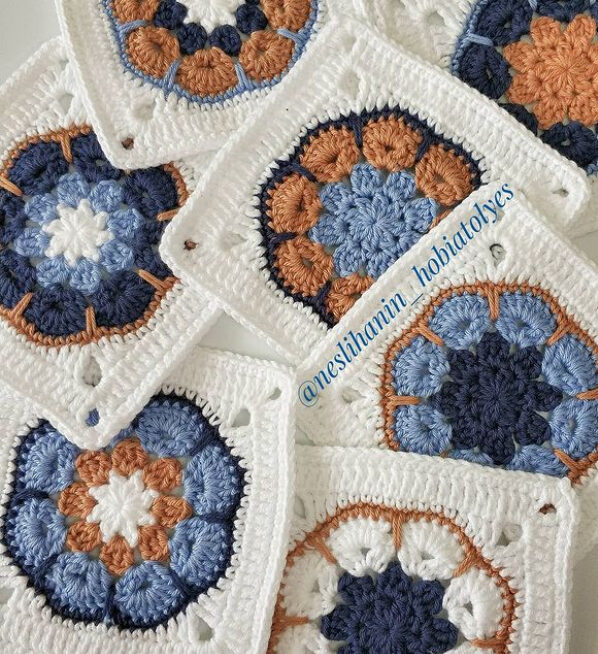 In this African Flower pattern with 8 petals, we are going to leave a color combination that is a classic, one of the most made in our atelier, because it is a neutral color, which is good for both males and females, however, I always like crimping , which are just suggestions, because what we here at the Iwant Crochet blog really want is to inspire you to create your own color combinations, as a good craftsman always gives a special touch to the piece.
This African flower with 8 petals pattern is also an excellent choice for professional craftsmen, it's really worth having a piece like this in your collection as it's a classic design, it's very sellable, and if you make it in neutral colors, it's even more easy to sell, it's always a good suggestion.
[activecampaign form=33 css=1]
Some of you have been asking us about the values ​​for selling handmade items made of crochet yarn, and as I have mentioned in previous posts, it is very complex for us from the Mommy Crochet blog to measure the resale value of your pieces, by where you go market, per line that you are going to use, so the least we can help, and we suggest that you calculate the cost of materials spent to make the part, and add thirty percent for the time and labor involved. But remembering that, it's just a suggestion, it's up to you, how, where and when you should sell your pieces.
We would like to thank all of you, our dear readers, for the countless messages received, you are our daily inspiration and motivation, we are eternally grateful to all of you, and we also want to say that our intention is just to spread the word about crochet yarn crafts to as many people as possible, so that more and more people are impacted by this craft, just like us.
See how to make African Flower Crochet:
Access the free pattern/African flower Crochet
If you liked this pattern, but still want to see other models of craft items with crochet yarn, before starting your project, I'll leave you a few more options below:
Unique pattern crochet blanket
Mommy Crochet blog wishes you all an excellent week, full of many accomplishments in your homes, with good health, peace, love, harmony and especially many lines to make the most beautiful pieces of crochet yarn craft.
With love and affection, Mommy Crochet!